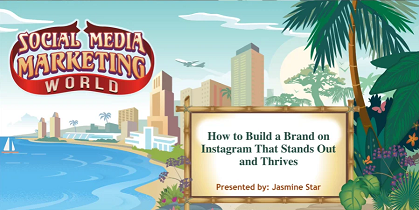 What if you could get more Instagram followers, turn them into raving fans, do it for free and it wouldn't take forever?
That was her opening question to the audience at her keynote presentation at Social Media Marketing World February 29 through March 2, 2020.
Jasmine is a big fan of using Instagram Stories to become the master of her destiny.
If you don't know Jasmine Star, she's a first generation Latina college student and she went to law school! Then her mother was struck with cancer for the second time and it rocked her world. Her husband asked her what she wanted to do with her life. She said "I want to be a photographer."
Now she's a photographer, strategist, and owner of Social Curator. She beat the odds with her brand.
She shared repeated in her talk that the fastest way to grow on Instagram (or any other platform) is to build a brand.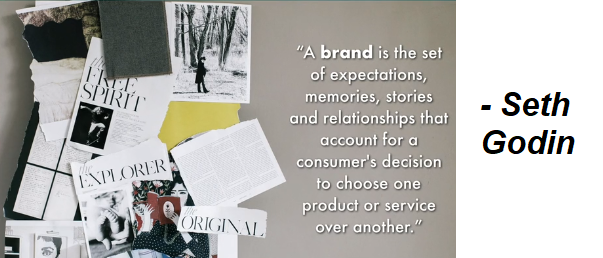 The good news she shares is you don't need any money, experience, talent, education, or connections to build a brand. All you need to do is make people feel something.
She addressed three common excuses she hears from people.
Excuse #1 – I have a small following
She reminds the audience that people buy from pleasure or pain.
She encourages us to use social stories to cast yourself as the go to person when they need your service.
Tell a stories, offer a solution for free. She offered two examples. One a lawyer who surfs and a dentist who does videos that go viral.
Excuse #2: I don't know what to post.
She honestly admits she doesn't know what to post either. That's why she test ideas out in two ways:
How followers respond to the visuals of your story
She tested three stories, each with a different visual and posted one every other day. She collected data on each an compare which one did the best. Then she knows which direction to go.
2. How followers respond to calls for engagement
Try using different ways to call for response. See what data you collect has to say and then you'll know what how well your audience will engage.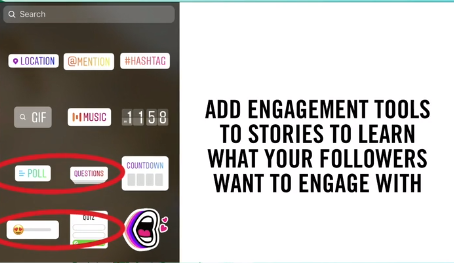 She says none of this is too hard. In fact, anyone can do it. She says "Don't think about it, you must do."
Then she gave the audience 5 stories you can do right now. Not only did she show you the types of stories you could post, but she offered free templates to use too.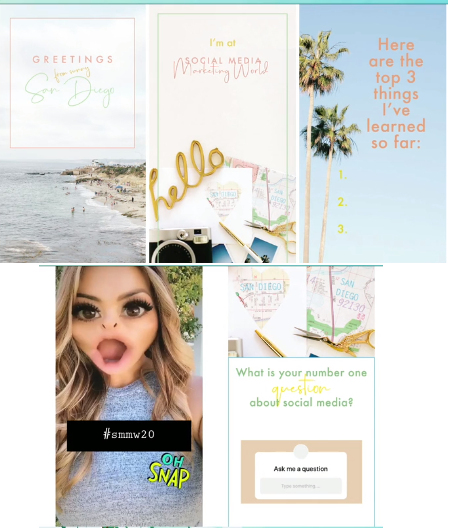 The caveat is that your stories must be of value to your audience.
Don't share a picture of what you ate for lunch but how that lunch fueled you to be more creative in serving your audience.
Excuse #3: I don't have time to post.
It's not about you. It's about what your audience needs to know.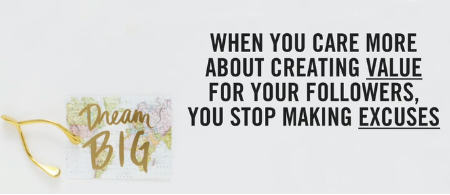 Show up for your audience. She admonishes us with this… "When you care more about creating VALUE for your followers, you stop making EXCUSES."
What NOT to post
"We're here at #smmw20 with@smexaminer in San Diego, CA"
"Super excited about this session #smmw20"
"Ready for #smmw20. Got my learning boots on and ready to get learnt."
If you're not getting engagement, it isn't the platform that doesn't work. You might want to look at the content. Is your content offering any value?
What TO share instead
Your goal is to offer value to your follower.
Here's a suggested way to share:
Can I share with you some of the best kept marketing secrets for FREE?
I'm at #smmw20 and I want to share the Top Three best tips for marketing your business
(Tip#1)
(Tip #2)
(Tip #3)
I'm learning even more and can't wait to use new strategies for our clients…always staying ahead of the curve at Agency X!
Which tip is your favorite? Let me know in the comments below so I can dig deeper into marketing your business.
A brand is an experience. You need to get people to feel something. Make your followers feel like they are seen, known, and belong. A brand is how you make someone feel.
You can ask yourself "How does this make my dream customer feel?" if you doesn't move them, don't post it.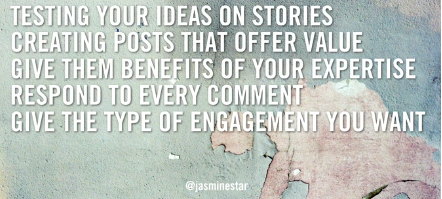 Show the benefit of the value you provide.
Respond to every comment. Let them know you see them.
She follows the 10X rule – go leave comments on 10 other accounts for every one of your posts that you ask for engagement and you'll start getting responses.
Be thoughtful in your comments.
You might believe the excuses you've been telling yourself. If you do, you won't get far in your business.
If you want to be bold, grow your brand, build an audience, and get your business from struggling to thriving, consider the wisdom shared today. Pick at least one thing to go implement.
Learning is great, but the results come from taking action. It's your turn now. Go take action!
Interested in learning about LinkedIn Video? Check out Goldie Chan's recap here.