Learn from Goldie Chan, LinkedIn Top Voice for Social Media (Video) and the "Oprah of LinkedIn." Goldie goes over the best ways to define, attract and deliver to your perfect audience and customer/client base. Discover both organic video and LinkedIn live-streaming tactics that get you to the top of the feed and dominating your industry vertical.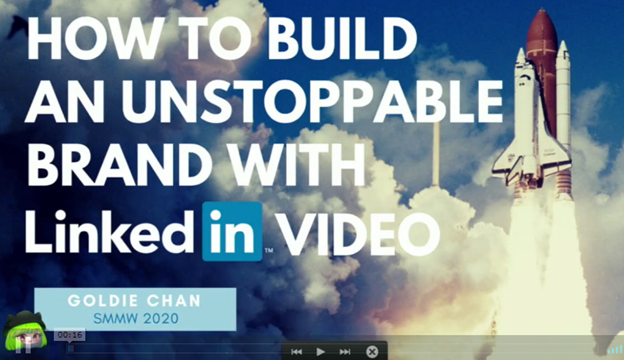 Do you have a LinkedIn Account? If so, that means you can do LinkedIn Video.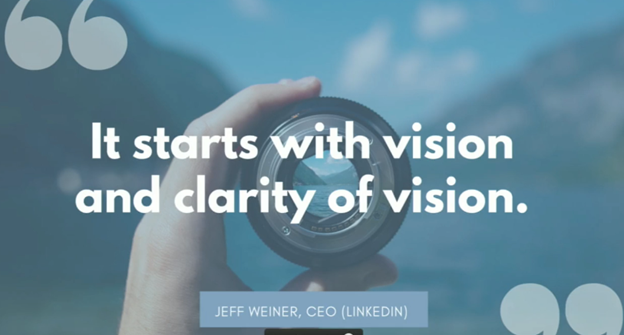 Know what you want to do with video before you jump in and start doing video on LinkedIn.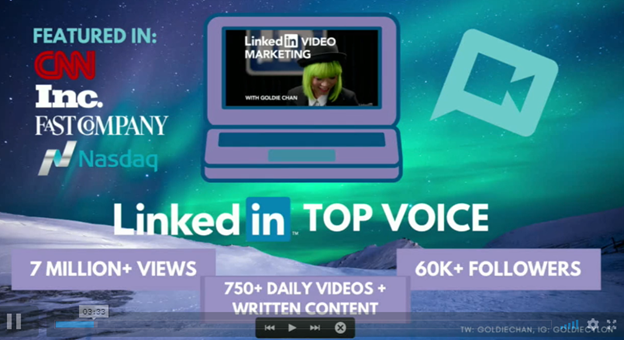 She's been in all the beta groups of LinkedIn. She has 7 million views, 750+ daily videos and written content. 60K people are following her on LinkedIn.
She loves to tell stories.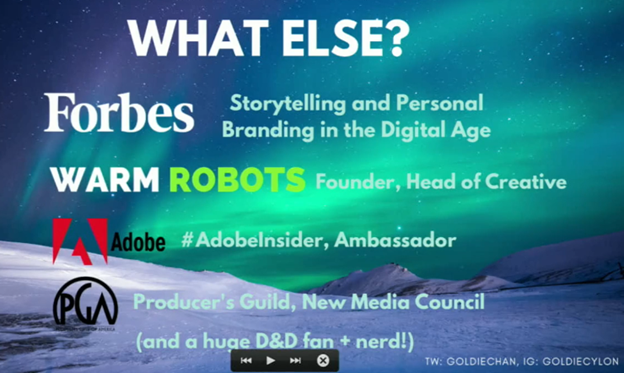 Goldie Chan is the youngest women of color in the Producer's Guild.
Because she is a teacher, she told the audience there will be homework at the end.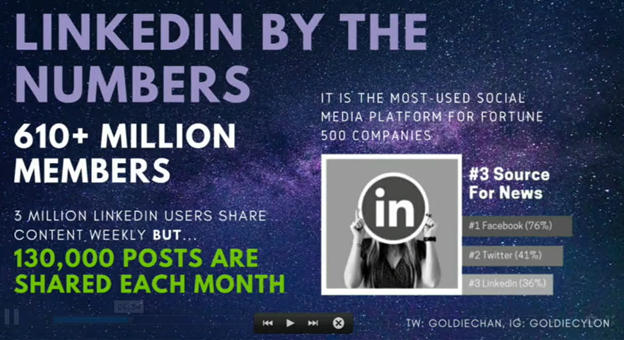 Of 610+ Million members, only 3Million members are creating content. There's some much land grab that can be done.
That means LinkedIn doesn't have a barrier to entry.
Why we love video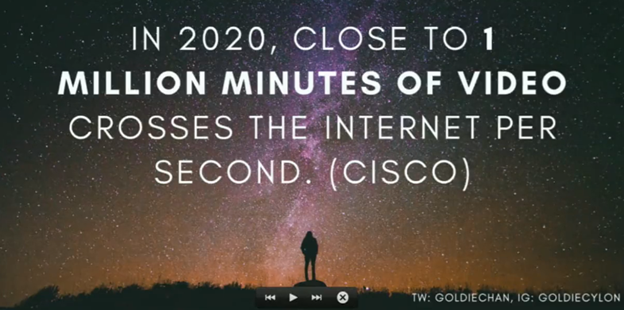 The number is going even higher due to short form content on TikTok.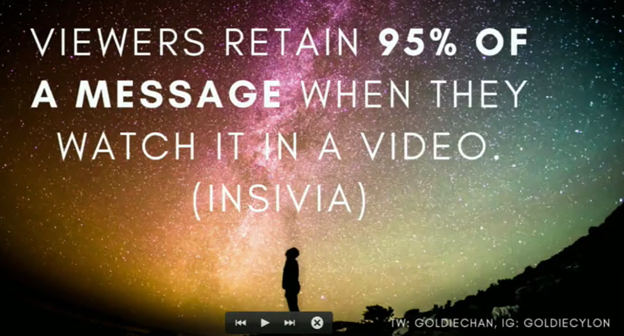 Whatever content you're creating, consider video because it sticks with the users better.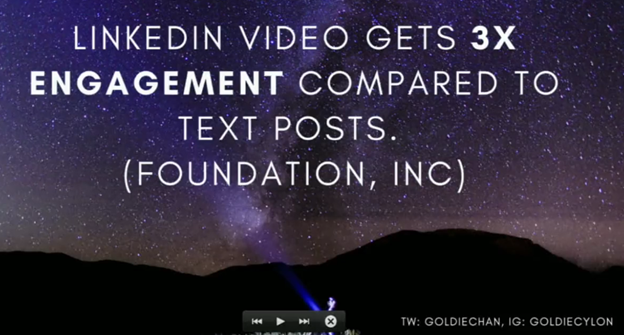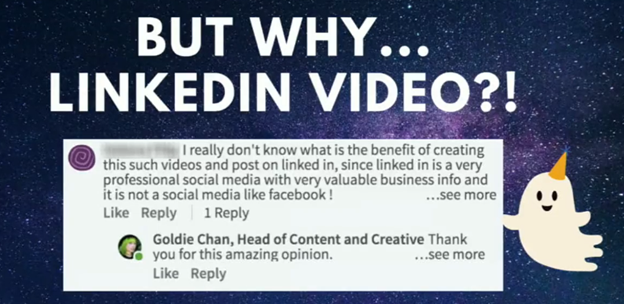 She shared her first "hater" video.
LinkedIn is not Facebook. Of course! It's a different ecosystem. Most people go on LinkedIn to look for jobs or clients.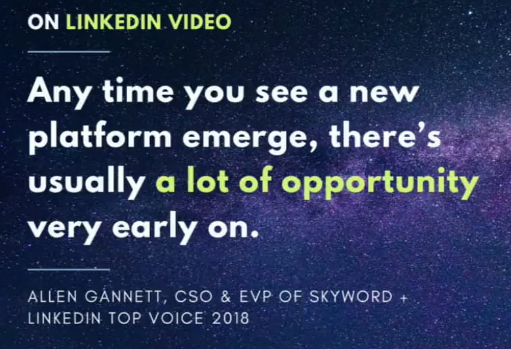 LinkedIn beta on video was just 3 years ago.  But consider YouTube that's been around a lot longer.
The rules have not been set yet.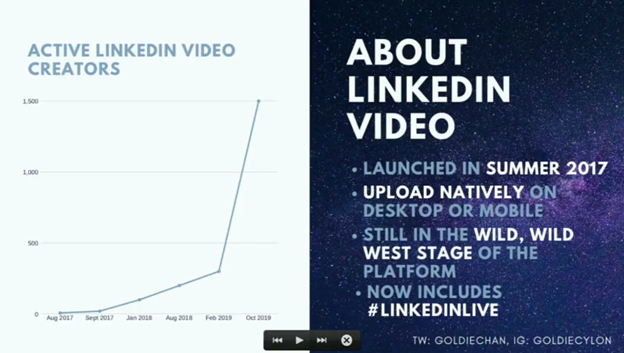 This graph is completely made up. The beginning is real. The rest is a bunch of guesses. Still very few active creators. Those who post more than once a week.
The competition is not very big.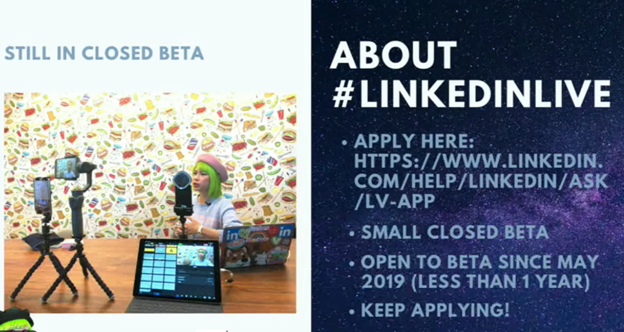 LinkedIn Live is in beta format. You have to apply.  Everyone can join if you apply. Keep applying. They are looking that your persistent.
Out of 610 Million people, less than 1,000 are live streaming and short form content are the future.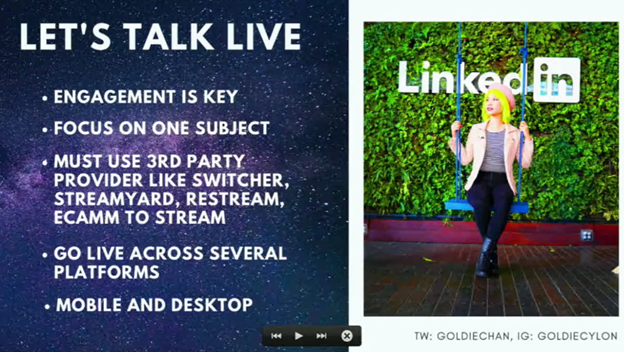 Respond to other people's comments always.
Having a singular focus with one subject on your live stream. 5 minutes to 4 hours (max) should be focused on one subject.  10 to 15 minutes to start. Once you have an audience, 25 to 35 minutes is the sweet spot.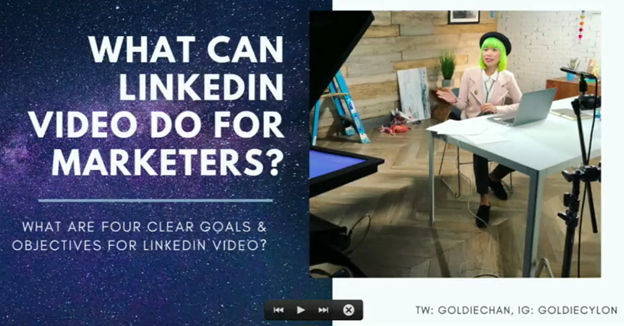 You can livestream on multiple platforms is amazing. Yes, you have to use 3rd party app for that.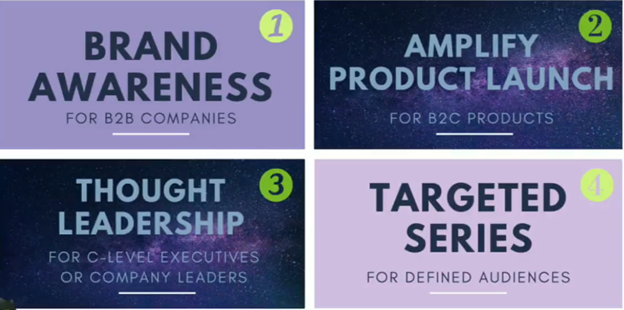 Brand Awareness for B2B companies
If no one is listening to you, you don't have a brand.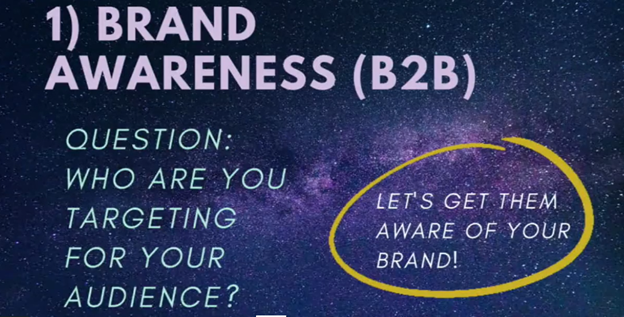 What's your audience like? Where do they hang out online? What do they read? What are they interested in?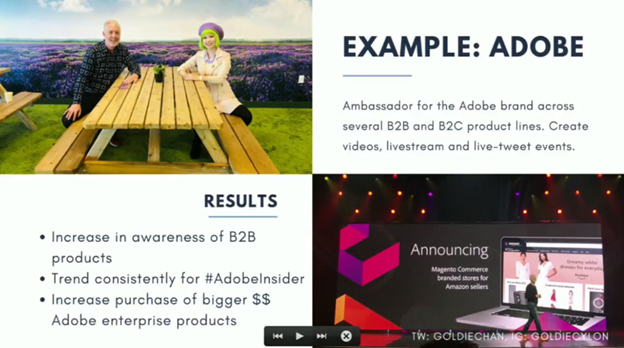 Engaging with the audience. Having a targeted market. Not selling to 12 years, but C-Level audience with a large budget.
Is your target audience on LinkedIn? If not, go to another session.
Amplify Product Launch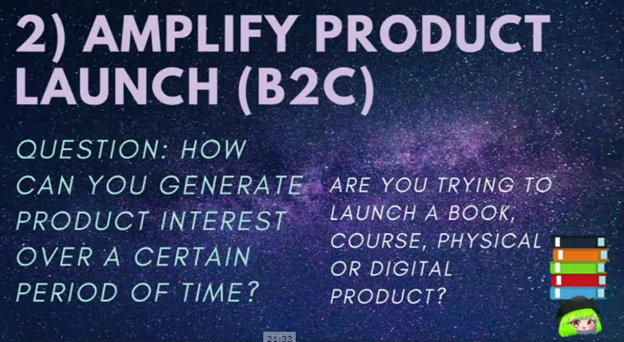 The best thing for B2C is NOT brand awareness.  Should focus on a launch for a specific subset of your targeted audience.
Brand awareness will not be effective over time for B2C.
Hashtags are being used now.  You don't know how many people are seeing the hashtag. Better metrics are views and comments.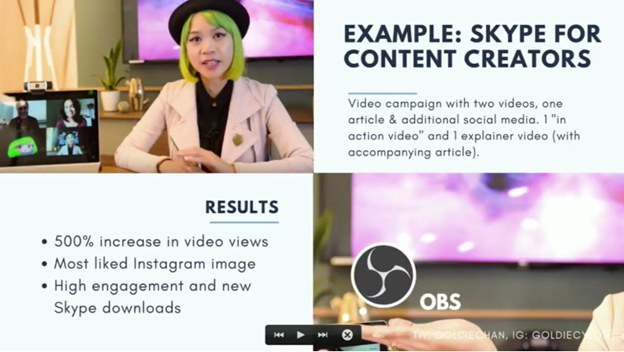 Thought Leadership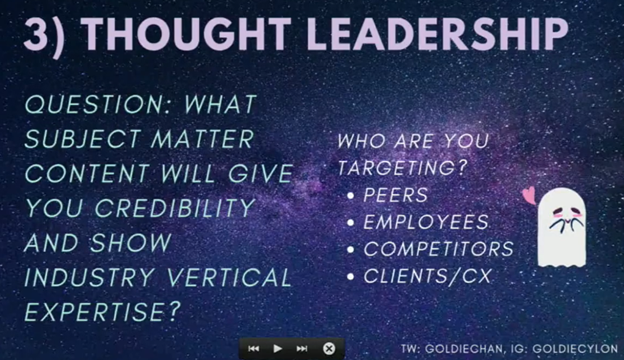 Show credibility. You are someone who is known for being the top provider in your industry.
You want to be known as the best for your specific area in marketing. Show you're an incredible people and have incredible amount of knowledge.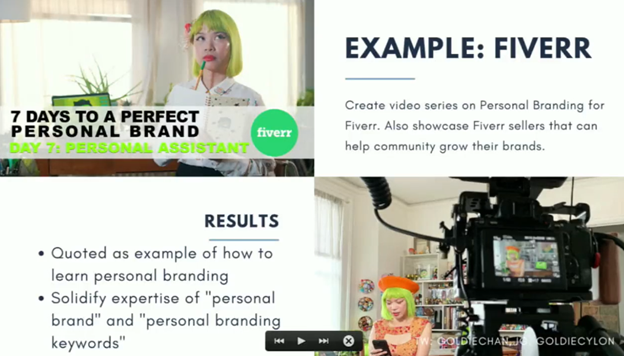 She shared her tactics on building a personal brand because this is her area of expertise.
Each video showed she knew what she was talking about.
Fun content won't help you get a job or client. Show yourself smart in your field.
Targeted series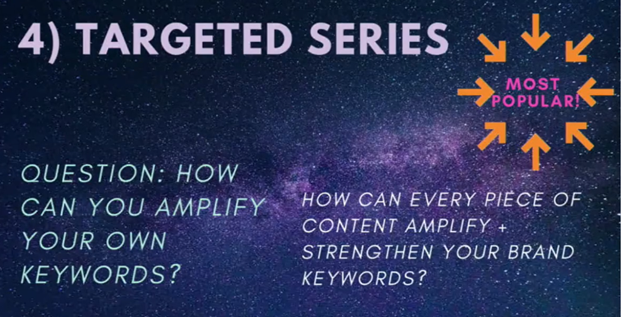 Very focused series of content.  Daily Goldie was a daily show for 2 solid years. Understand where your focus is. This is where you can own two hashtags on LinkedIn.  One hashtag is made up #yournamespeaks. The other one is real that every one else is using #personalbranding.
Type in an example in the search bar to see if anyone is searching for it.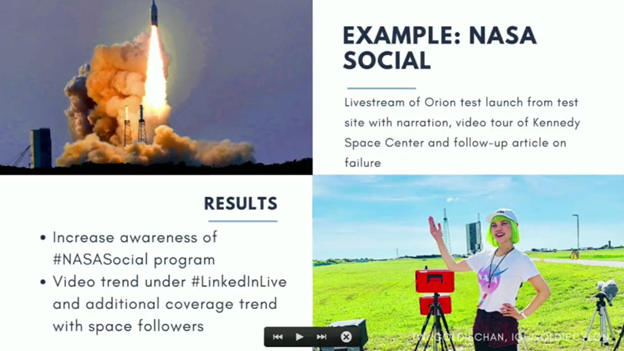 Huge spike in people wanting to learn about NASA.
5 Best Tips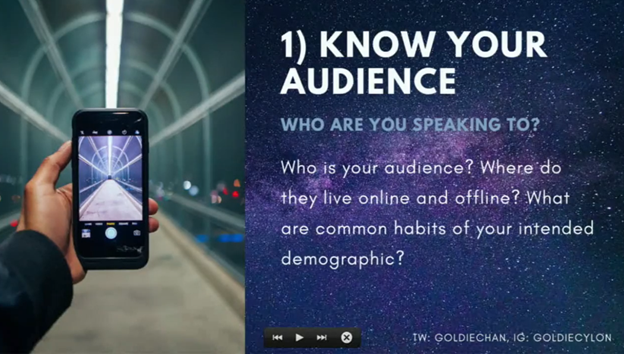 Know your audience. Become the best in your space. It's more helpful. Become the best person for your demographic. Know who you want to speak to before you open your mouth.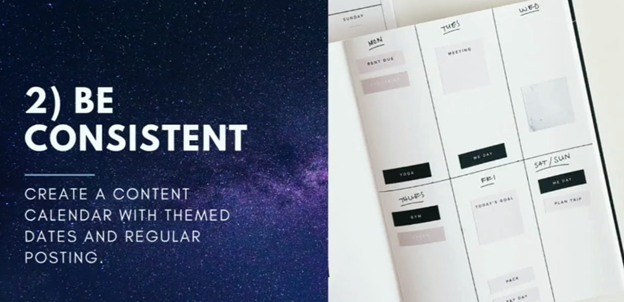 Consistency is the key. Use themed dates and regular posting. Hang in there even when it's no longer fun.  Make daily videos.  She did it for 2 years.
Pick a day of the week and own it. Create content once a week to start.  Make 4 pieces of content each month.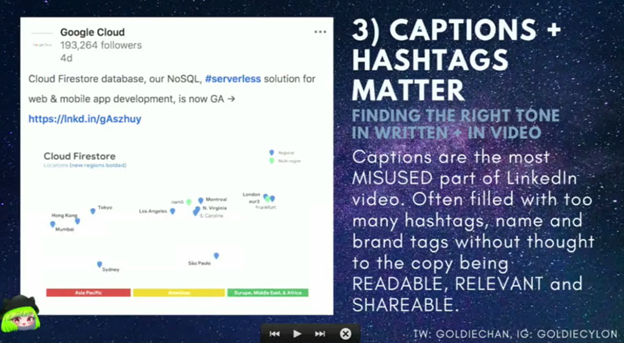 LinkedIn is not Facebook, Instagram, or TikTok. Use appropriate captions.
When you create content use common sense. Every post is tied to you. This could impare your job or career moves if not done well.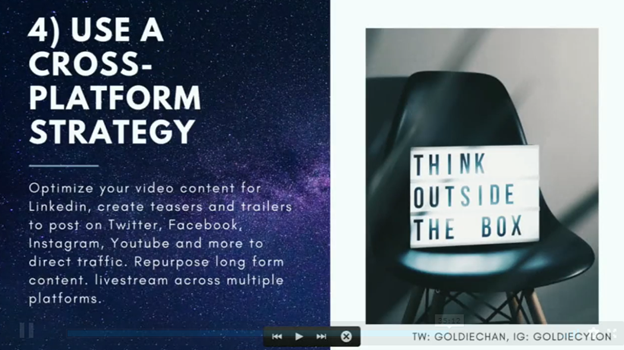 Don't ignore other platforms. Don't shoot videos for YouTube and drop them in LinkedIn.  You need to create content tailored to the platform.
Link to your LinkedIn videos on other platforms.
Link your videos to your product pages by put the link in the comments.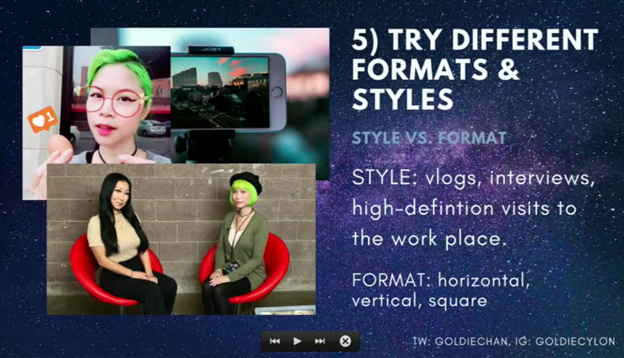 Is there an optimal style to use on LinkedIn?  NO!
Make it work for mobile devices.
Be attractive framing. Don't use extreme closeups.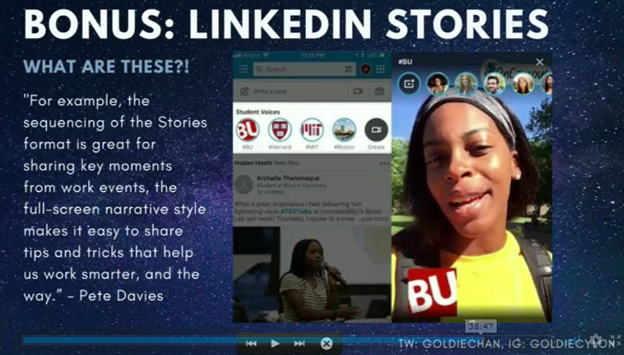 LinkedIn Stories – it's like Instagram, SnapChat, Facebook stories.
It's short form vertical content. They have been trying this out for targeted audiences, such as Real Estate Agents in the Dallas area.
Homework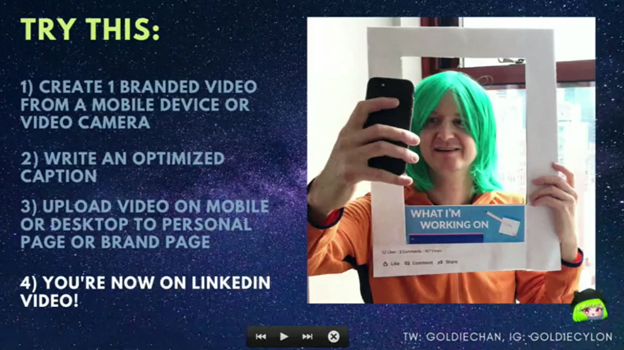 Halloween of 2018, Peter dressed up as Goldie Chan and thanked her and all video creators.
Create 1 video, write an optimized caption, upload video on mobile or desktop to personal page or brand page, and tag Goldie Chan.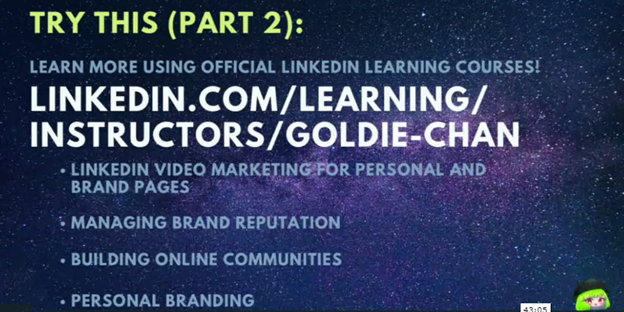 LinkedIn Learning Goldie teaches many courses.
https://www.LinkedIn.com/Learning/instructors/Goldie-Chan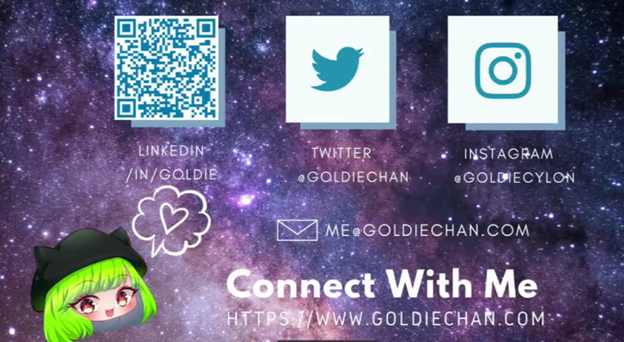 Be empowered to create a LinkedIn Video today!