There are many forms of lead generation tactics: newsletter, special reports, blog posts, articles, webinars, videos, case studies, white papers, and more.
Although, one tactic stands out – White Papers.
Why Use a White Paper?
96% of B2B buyers want content with more input from industry thought leaders. (Demand Gen Report, 2016 Source: https://www.hubspot.com/marketing-statistics)
And because White Papers have a dual purpose. On one hand, they offer helpful information on a particular topic. On the other hand, White Papers help position you as an expert in your field. This builds creditability and trust among your potential clients.
What is a White Paper?
A White Paper is a type of a report. It's written as an educational piece. Typically describing a particular problem in a specific industry. It describes how people have tried to solve that problem and failed. It also shows how the problem is finally solved, along with a subtle mention of a specific product that solved the problem.
When is a White Paper Used?
At the top of the sales funnel you find lead generation pieces to get people into the sales funnel. Once a prospect has entered your sales funnel, you will nurture them with content. This allows you to overcome any obstacles preventing a future sale.
This middle portion of the sales cycle is where we help a potential client get to know your company has the potential for solving their problems.
What is Gated Content?
When content within a White Paper is highly valuable, it should never be shared for free. This is called gated content because one must pass through the gate of an "Opt-In" to receive the information requested.
The content shared in the White Paper should be so compelling your potential client has no qualms about entering their name and email address to get this content.
Let's a take a look at a couple business intelligence companies to see how they use White Papers in their marketing strategies.
Qlik.com has multiple White Paper opt-ins throughout their site. Below you'll see one specific to Qlik Sense Architectural Overview.
FIGURE 1 QLIK WHITE PAPER OPT IN
Panorama is bucking the industry norm by giving away their White Papers with no email opt-in. While this may be helpful for the customers, this is definitely not best practice. Panorama is losing valuable marketing opportunity here.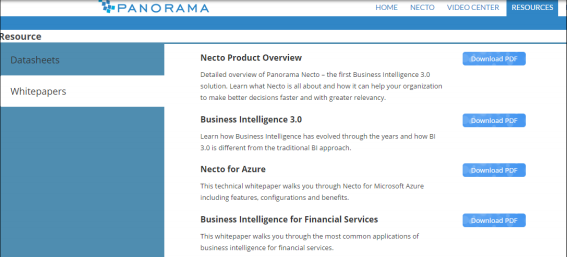 FIGURE 2 PANORAMA WHITE PAPERS
What topics in your industry would make a useful White Paper? What problems does your product or service solve? Can you write a compelling White Paper to convey how to solve that problem?
Lack of resources, such as staff, funding, and time, remains the biggest obstacle to successful lead generation for 61% of B2B marketers. (BrightTALK, 2015 Source: https://www.hubspot.com/marketing-statistics)
If you'd like help with White Papers, contact me to get started on your own White Paper.