When you're in the startup phase of a business, sometimes your clarity can become foggy. There are so many things that need to get done and a high risk for getting distracted with less important activities. Being a solo-entrepreneur means you're responsible for literally every part of your business. You were many hats – CEO, CFO, CTO. There's fulfillment, supply chain, the work itself, customer service, marketing, sales, etc.
It can be overwhelming at times.
Can you relate?
Before I became an entrepreneur, I worked for a tech company and I on the team that put together the company's strategy map. Yet, I didn't create my own strategy map for my business until three years in. That's crazy!
When I did finally create the strategy map, it gave me clarity and helped me see the vision I had for my business was attainable.
If you don't have a corporate background, you might be thinking, what is a strategy map?
Well, it's a visual representation of the strategy of your business. It's built in sections, but when each section is layered together it becomes the roadmap for how the strategy is to be implemented.
Here's an example: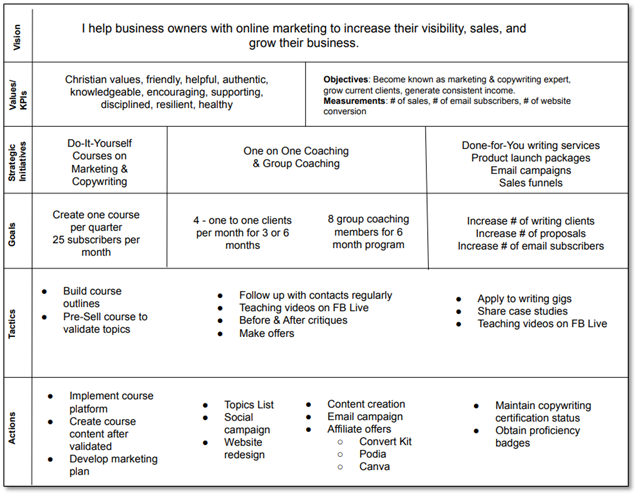 Figure 1 Smart Copy Clicks Strategy Map
Let me calm any fears you might be experiencing around the strategy map. There's no right or wrong way to do it. There are many templates you can use.  In fact, the one I used in corporate was slightly different from the one above.  For example, the rows of the corporate strategy map were: Financial, Customer, Internal, Learn & Growth.
However, I modified this to fit my needs. Here are the steps I took to create my strategy map. Perhaps it will be helpful to you when you start working on your own strategy map.
Step 1: Vision & Mission
At the top of the strategy map is the Vision & Mission of your business. A concise statement that reminds you of your overall vision and mission should be applied here.
You can read more about creating a Vision statement in my other article How Having a Vision Gives You Direction.
Step 2: Values & Key Performance Indicators
The second row of the strategy map contains both your core values and the key performance indicators. On the left side of the map you communicate what you want to be known for and the kind of culture you want to create within your company. On the right side you list the specific measurements you'll use to determine your progress.
Step 3: Strategic Initiatives
Third from the top on the strategy map is where you list 2 to 3 strategic initiatives that are the main method of generating revenue in your business. You may have more than 3 revenue streams, but for the purpose of the strategy map you want to focus on the top 2 or 3 that generate 80% – 90% of your revenue.
Step 4: Goals
For every strategic initiative you will have a specific goals section below. Here you will list the specific measurable goals related to that initiative.
Step 5: Tactics
Sticking with the number of strategic initiatives, you will also include a section for the specific tactics required to implement the strategic initiatives.
Step 6: Growth & Actions
In this final row of the strategy map, you will capture any knowledge or skills you must acquire to accomplish your strategy.  In addition, you'll list specific activities needed to execute your plan.
If you take the time to identify all the elements in the strategy map as outlined above, you'll find the clarity you need to keep going and to stay on track by minimizing distractions. If you need help to get started creating your own strategy map, I'd be happy to discuss it with you and give you some pointers. Book a consultation with me here.