There are plenty of ways to generate traffic to your website. Many would say the first place to start with paid advertisements. But I disagree. I like to utilize all my free options before I spend a penny. So here's a list of free things you can do to increase traffic to your website. Enjoy!
1. Identify Content Themes in Your Content Strategy
Consider your buyer's journey. At each step in their journey, they need to know certain things. Identify them.  Identify the type of content needed at each stage in the buyer's journey.  For example, if I needed to buy a new car I might start by thinking about what features I need in a new car. I might need to know which brands/models have those features. I might want to know who has the best feedback from others who bought the same car as I'm considering. I might want to know who has the most awards around the top features I care about. I might need to know what dealers have inventory, etc.
Industry trends, how-to suggestions, problem/solution, power stories, and case studies are a few of themes that might be applicable in your market.
As the MarketingProfs graphic below suggests, there are several tactics for sharing those content themes.
2. Write Compelling Content that resonates with your target audience.
The content you provide needs to tap into the specific things your target audience is dealing with. If you know their pain points, you can create content to help them solve those pain points.  This will draw the readers to your website for more great content.
Interview industry experts who can speak to specific topics your audience cares about.
MarketingProf infographic shows 69% of B2B marketers focus on creating content for their audience versus their brand.

Figure 2 MarketingProfs Infographic stat of audience vs brand focus
Content that resonates with your audience will be content focused on the buyer's journey.  Information that helps them make a more informed decision or guides them in the way to solve their problem.
3. Create Only Great Content
So what makes content great? Several things actually.  Let's start with a strong headline, one written to peak interests, adds urgency, is useful and totally unique. Remember the Power of One principle when writing a piece. The entire piece should be focused on one main thought. Weave in the promise you offer as well as the benefits they get from taking advantage of your promise. Then offer enough proof and credibility to your claim. Close with a solid call to action to move your reader to take action. Content should be written in a conversational tone. After all, you're writing to one person. If it doesn't sound like you talking, go back to the drawing board. There's much more that goes into the making of great content. If you starting implementing these, you'll be on the right track.
MarketingProfs infographic shows 76% of B2B marketers prioritize delivering content quality over quantity.  And you should too!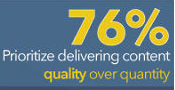 Figure 3 MarketingProfs infographic stat on quality vs quantity
4. Utilize Social Networks to Reach Your Target Audience.
Great content won't be effective if you don't get it in front of your ideal clients. Find out what social networks your target audience uses. Get active on those networks. Share your awesome content written specifically for your ideal client.
Wordstream suggests "Twitter is ideal for short, snappy (and tempting) links, whereas Google+ promotion can help your site show up in personalized search results and seems especially effective in B2B niches. If you're a B2C product company, you might find great traction with image-heavy social sites like Pinterest and Instagram."
5.Optimize Everything For SEO
When I say optimize everything, I mean everything.  From content titles, post descriptions, image names, image descriptions, page title, page descriptions, snippets, and all the meta tags should utilize the specific keywords or phrases people search with.  Don't underestimate the power of SEO. When done properly your content will rank better in the search results. This means more people finding your content and ultimately your website.
Here are 7 trends in SEO you need to stay on top of in 2017
6. Utilize Influencer's Networks
An influencer is someone in your market that your target audience listens to. Anyone who generates content in your market that your audience readers would be an influencer.  Cozy up to them. Get to know them.  Offer your content they can share with their network.
Note: You can't just give them any ol' content. It needs to helpful to their audience. It must add value otherwise there would be no reason for sharing it.
7. Invite Others to Write for You
Identify the leading blogger's in your market. Contact me and ask them to contribute content to your website. This will help bring their following to your website.
8. Increase Your Share Ability
Every page on your website should be shareable.  Consider adding social share buttons on every page.  Make it easy for people to share your content on whatever social networks they want.
9. Increase Your Rankings With Internal Links
Create a linking strategy inside your website. Include call-to-actions on every page that link to other pages on your website. This helps increase the time on your website and search engines like it.
10. Offer a Free Newsletter
Add an email opt-in form to your website to allow potential customers to sign up to receive updates from you. Remember people want to get to know you better before doing business with you. This is your chance to communicate with them.
11. Make Your Website Responsive and Fast
Your website must be easy to use on every platform. Not an easy task! With the ever increasing types of devices, how can you stay current? The answer is with a responsive web design. If you don't have one, get one.  Your website needs to be fast, too. No one wants to wait around while your bulky images take forever to load.
12. Share Your Content With Others
Content aggregators help get your message out there. There are many to consider. Look for those in your market that share content similar to you.  Sharing your content with content aggregators will also help your SEO ranking, as reputable links to your website are good for you!
13. Use Video Everywhere You Can
With today's always-connected users, a video is the leading type of content people are consuming today.  Think about ways to incorporate more video. Share case studies of how you help your clients. Share helpful ways to solve problems. Create videos to help your prospects get to know you more.
If you haven't considered using videos yet, you might want to check out this infographic from HubSpot.
14. Face to Face Networking
There is nothing better that meeting people face to face. This builds trust faster than anything. So look for opportunities to meet people face to face. Check out MeetUp.com. They offer "meet up" opportunities for just about any interest out there.
There are several ways to get face to face with people.  Consider professional associations, such as American Marketers Association at https://www.ama.org/Pages/default.aspx Find one that is specific to your industry and join it.

Figure 4 AMA logo
Look for groups meeting in your area. Take advantage of the https://www.meetup.org/ to find meetups on various topics, industries, or niches in your area.
15. Host Webinars
Potential clients love to sign up and watch webinars as part of their buyer's journey. This is a good way to get your name and expertise out there and draw people back to your website for their next steps in getting to know more about you.
16. Go to Industry Conferences
While this is similar to face to face networking, it is a little different. For one, you're likely to meet industry experts who you can partner with. You'll also meet prospective customers who are researching in your field.
17. Comment Your Way Into Their Hearts
Look for user communities and other online groups you can join. Then get active commenting where you can. As you comment more, people will see your name and the wisdom you share. This helps build an audience who will then click back to your website to know more.
18. Submit Your Sitemaps Regularly
Don't forget to submit your sitemaps to the search engines on a regular basis. Remember search engines always want the latest and greatest information. If you provide your sitemap updates regularly then search engines will be able to index you quickly.
As you can see from this list there's a lot to do. You might feel a bit overwhelmed. Don't be. Pick one or two items to implement and start with that. But if you find you're like most B2B companies where resources are tight, I'm happy to help you get started.