The internet has made it easy to connect with your potential customers.  Now connecting is just a click away. You can stay in direct contact with your customers through social media.  But you might be wondering which social media platform should you be on?
SmartInsights.com publishes a report each year to monitor social media platforms.  Maybe some of their charts may help you determine that.  Let's look at a few.
Which social platform is the most popular?
I'll give you one guess. Yes, it's Facebook of course.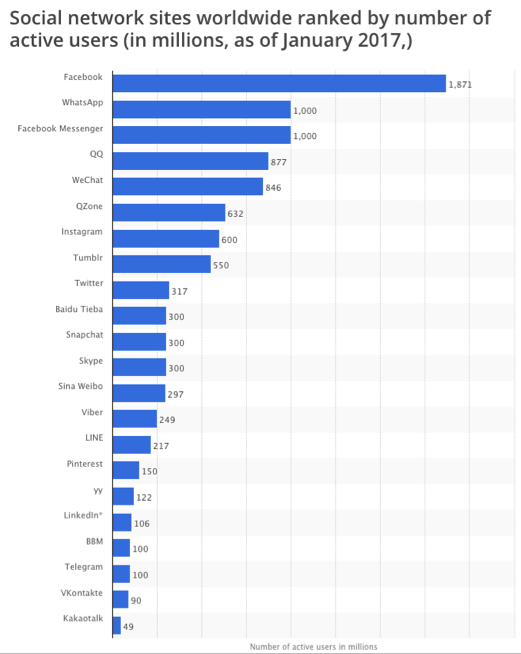 FIGURE 1  SOCIAL MEDIA RANKED
What's the frequency of use on each social platform?
Looks like most users access their social networks daily.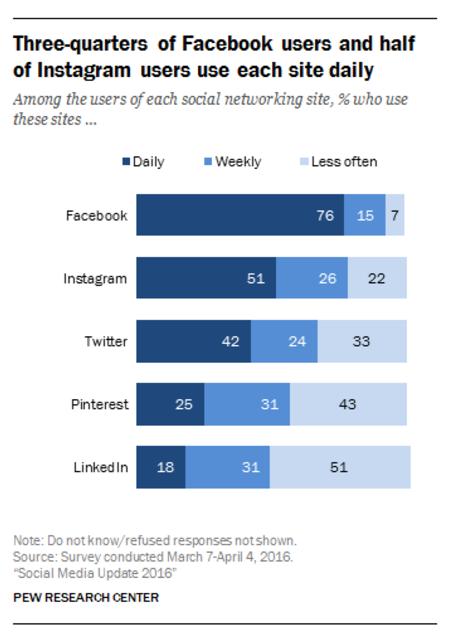 FIGURE 2 FREQUENCY OF SOCIAL MEDIA
What is the average age of user on each social platform?
It looks like the 16 to 24 group and 35 to 44 group have the largest percentage across all social networks.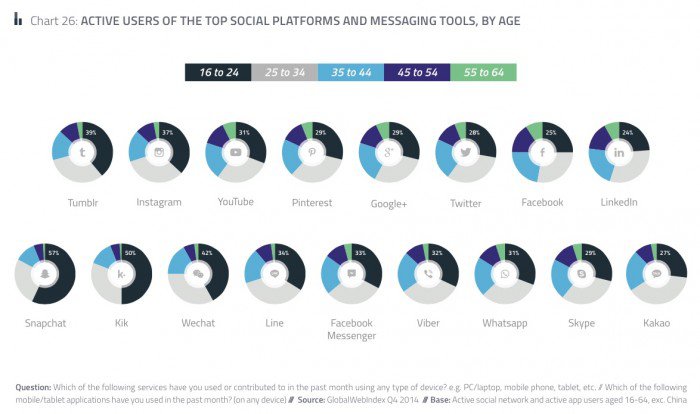 FIGURE 3 DEMOGRAPHICS OF SOCIAL MEDIA
So now you know which platform is the most popular. And how much time the average user spends on that platform. And the average age of the user by platform.
Does this help you figure out which platform may work for your business?
As you can see from the last chart above, there are many different Social Media platforms out there. And new social platforms are emerging every day.  Don't let this discourage you!
This doesn't mean you need to be present on all of them.  You just need to be on the one your clients are on most of the time!
When you've found the right social media platform for your business, prominently displaying your company's social media networks will help your customers find you and engage with you.
Let's look at three companies who prominently display their social network links on their websites in different ways.
Board.com appears to be on Twitter, Facebook, LinkedIn and YouTube as shown in the picture below.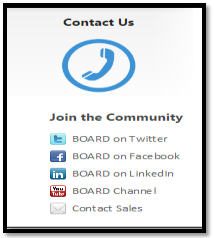 FIGURE 4 BOARD SOCIAL MEDIA
Qlik prefers the social icons to represent their social network profiles as seen on the left in below picture.
FIGURE 5 QLIK SOCIAL MEDIA
GoodData displays its icons in the footer as well.

FIGURE 6 GOODDATA SOCIAL MEDIA
What Social Networks are you on? Are you sharing your Social Network links on your website?
Need help figuring out where to share your Social Network links?
Contact me today to get moving in the right direction.
Looking for other ways to connect with your audience? Check out how to use User Groups to engage.